The huge airport that spans one million square metres cost £13.5bn and was constructed south of Beijing in just five years.
Shaped like a starfish – the new Daxing International Airport in China has opened billed as the biggest terminal in the world.
Opened by Chinese president Xi Jingpin, it spans one million square metres (11 million square feet) and serves as the second airport for the nation's capital.
Officials said another airport was needed and the huge structure took just five years to build at a cost of 120 billion yuan (£13.5bn) and has been designed to handle up to 72 million passengers a year.
The structure consists of six spokes coming out from the middle of the building, earning it the nickname "The Starfish".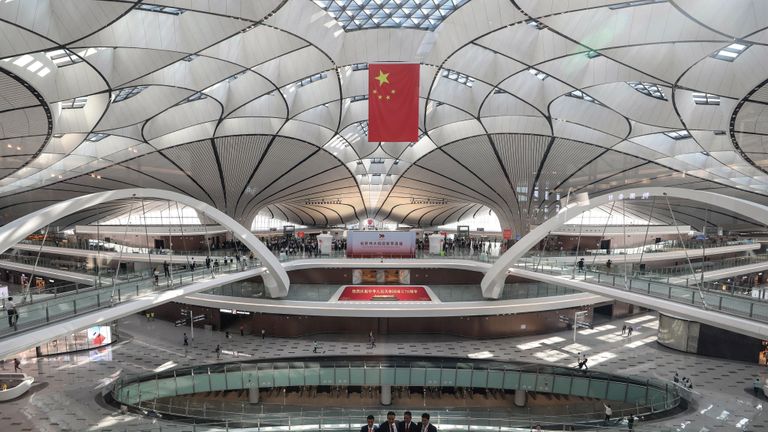 Daxing will initially house seven Chinese airlines and fly to destinations internally, but will later broaden out to international destinations.
The immigration and customs services are not yet functional, so the airport cannot initially welcome international passengers.
However, British Airways has announced that it will move all of its daily Beijing flights to the new airport in Daxing in October – the first airline from outside of China to announce the move.
Finnair, Royal Brunei Airlines and Malaysia Airlines have also announced that they will fly to the new airport in the coming months.
A new high-speed railway service was constructed to serve the airport, and will carry passengers at a speed of 250kmh (155mph) to the centre of Beijing 45 miles away.
Beijing joins a group of cities that has more than two international long haul airports – a list that includes London (Heathrow and Gatwick) and New York (Newark and John F Kennedy).
Credit: Sky News